by Noreen Quadir, Social Media and Communications Specialist
Facebook has released a new feature that allows employers to post career opportunities for free, making it easier for prospective candidates to find and apply for jobs online. As a private practice, you can quickly find the right fit for a position by posting the job opportunity on your Facebook page under the new "Jobs on Facebook" section. This new section has listings in the local area so users in your community can come across your post and apply directly on the social platform. Candidates can fill out their name, education and employment history, and a short cover note (1,000-character limit). You will then receive their application in your Facebook message inbox. Candidates will also be able to apply on your page under the new "Jobs" tab, where your career opportunities will be listed. Simply post your job listings in this section and your current openings will show up in people's newsfeeds.
Advantages
There are many advantages to using Facebook's new job search feature. With 1.87 billion active users, your Facebook job listings will reach a larger talent pool, as compared to LinkedIn which has 467 million users. More users means you will have a higher chance of finding the most qualified candidate for a position through this platform than other job boards. The network also simplifies the employee search by allowing you to receive applications through the Facebook Messenger app, where you can reply back via text or a video/audio call. Conducting pre-screenings and interviews can be done through Messenger as well. Another advantage is the ability to review applications on the go with your mobile device. If you have a really busy day, you can quickly check your phone to see messaged applications between appointments or on a coffee break. People following your page will see your job postings and can also share them on their page where their friends can also see it. You may also have businesses in the medical community that are following your page — if they share your post it will reach even more people with an interest in medicine and healthcare. Consider reaching out and asking if others will share your post, giving it a wider reach and greater access to potential talent for your practice.
Easy to Post and Share
Posting a job opportunity on Facebook is very easy and takes little time. When you go to your business page, you will see an option that says "Create Job". By clicking on that, you will be asked to fill out the details for the job, including title and description of duties and requirements. As this feature is somewhat new, not all Facebook pages have the Jobs tab showing yet, but you can also create a job listing simply by going to your status box on the main page. Underneath the box where you can type an update, you will see various options for postings, such as sharing a photo or video. In the second row, there's an option to Publish a job post — click on that and you will be taken to the same form to fill out your job details.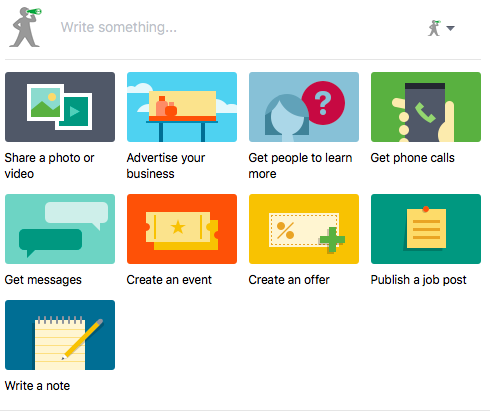 You can and should add a visual component to your job posting. An appealing photo will make your job listing attractive and will result in more interest. Choose a photo that best represents your practice's office and environment. A photo of your staff smiling at work or a photo that displays the beautiful interior design of your office are always good options. You want to show potential employees what's great about working at your practice. WIthin the job posting form, you can fill out include salary, location and job type (part-time, full-time, contract, etc.). Once you finish filling out the job description, just click "Publish Job Post" and it will immediately be published on your page and appear in people's newsfeeds.
After you publish your job listing, you will have the opportunity of boosting the post to reach even more people and target the audience for your post, making it an even more effective strategy for finding candidates. Once your post is live, you can click on the "Boost" button below it. You will then be asked to pick a targeted audience, where you can enter interests your prospects might have (i.e. medicine, healthcare, etc.) and an age range. If the position is entry-level, you may want to select a typical age range for recent grads. And if it's a role that requires years of experience, you may want to select an age range that is older. It's important to keep in mind what the role is and what interests, skills and experience your ideal candidate has. That will help you to determine the targeted audience for your boosted post. Once you choose your audience, you can enter the budget you want to spend. The more you pay, the more people the post will reach. By entering a certain amount of money, Facebook will let you know the average number of people the post will reach. This usually depends on your targeted audience and will help you determine how much money you should spend. You will only get charged when a candidate clicks on the job post.
Facebook has long been a very useful marketing tool for private practices, offering opportunities to communicate with their patients and the community through business pages. With the addition of the Jobs section, medical practices now also have the ability to quickly and easily find qualified employees and choose candidates from a larger talent pool through Facebook.
https://theverdengroup.com/wp-content/uploads/2020/02/group_logo-300x112.png
0
0
tvg_lk8fgh
https://theverdengroup.com/wp-content/uploads/2020/02/group_logo-300x112.png
tvg_lk8fgh
2017-03-10 16:59:46
2020-03-25 16:00:24
Using Facebook's New Job Search Feature